Product Spotlight
— By
Alex Cerveniak
on July 26, 2010 7:49 am
Called the "bobbin of bobbins," Marc Petitjean's "Thread Through Bobbin," aims to solve a few classic design limitations of standard bobbins.
The first problem being that of spool size and thread tension. While spools of tying thread from various manufacturers may appear to be about the same size, they're often slightly different.  This is why with a normal bobbin you may find that one spool seems to flow off of much smoother than another.  Petitjean's TT Bobbin addresses this issue by the use of a small, adjustable sliding mechanism on the neck of the bobbin.  To adjust the thread tension, you simply move the slide towards or away from the spool until you reach the desired amount of tension.
The next problem with that of normal bobbins is that of threading them.  To get around this issue, some tiers use a bobbin threader, while others place a small amount of thread into the bobbin tube and then suck it through the other end with their mouth.  Threading a bobbin is exponentially more difficult when trying to thread silk flosses through them.  Petitjean has engineered a brilliant solution to this into the TT Bobbin.  To thread the bobbin, you simply bring the thread or floss under a small hook at the base of the bobbin tube, and then around another small hook at the tip of the tube (see video for demonstration).
The third innovation you'll find on this bobbin is that of a small groove in the bobbin tube that acts as a built-in dubbing loop twister.
To see how simple the TT Bobbin is to use, watch this short video from the Caddis Fly Shop.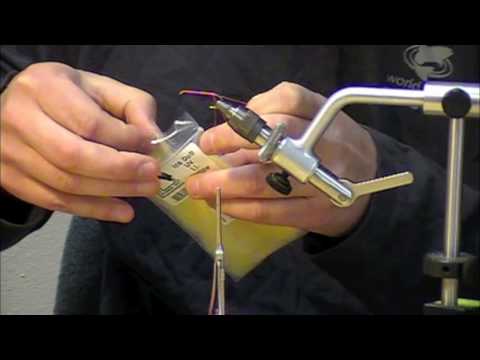 During testing, Hatches staff members were able to thread this bobbin without even looking at it!  No issues were encountered with threads or flosses fraying or breaking while using the TT Bobbin, and the built-in thread tensioner was very simple to adjust to several different spool sizes.
The Petitjean TT Bobbin is available wherever Hareline Dubbin products are sold.
Product Spotlight: Petitjean TT Bobbin

,
Tags: Caddis, Classic, Dubbing, Hatches, Tan, Tube
Related Articles
» Korkers Hatchback and Darkhorse Wading Boot Review
» Stealthcraft Rafts - by Alex Cerveniak
» TyWheel Review by Alex Cerveniak
» Barred Ostrich from OPST (Olympic Peninsula Skagit Tactics)
» Regal Fly Tying Vise Review - Regal Revolution
» Hatch Finatic Reel Review
» OPST Commando Skagit Heads
» Korkers Devils Canyon Wading boots
» Choosing the Correct Fly Line - RIO