Book Reviews & Excerpts
,
DVD
,
featured
— By
Kevin Hospodar
on March 16, 2011 9:21 am
Building off Skagitmaster 1 with Ed Ward, comes Skagitmaster 2 with Scott Howell "Steelheading outside of the box". Skagitmaster 1 gave viewers a intensive and through breakdown of all things Skagit-casting. From history to fly design and from lawn casting to the water of the Pacific Northwest, Ed Ward gave viewers everything. And now #2 is Scott Howell's turn to to give you another piece of the puzzle… fishing your casts. Make no mistake this is not just a video about swinging flies. While there are some great fish/scenery shots and an interesting look into Scott Howell, this is an on the water instructional video on how to fish a swung fly.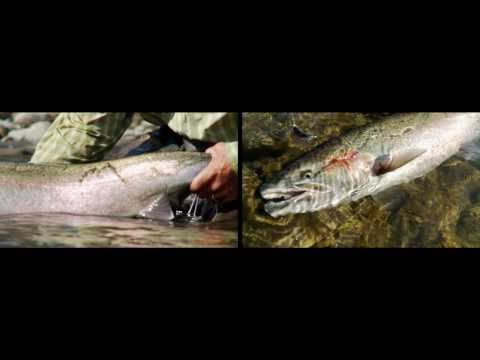 The "outside of the box" title fits well. There is little to no mention or time spent on a traditional ¼ downsteam, upstream mend, and swing method. Scott is casting straight across, throwing downstream mends, and even feeding line. But all these "outside of the box" techniques are not without reason. Scott effectively shows how to fish water that would otherwise be passed by an angler fishing a swung fly. These are tried and true techniques from Scott's home water, the famed North Umpqua. While watching this video Scott presents techniques that almost any angler can take to their next day on a local river, rather that learning a technique only to store it away for a trip to 150yrd classic steelhead run in BC. Scott also puts togeater an impressive section on skating dry flies with skagit casts and even ties a few of his proven tried-and-true flies.
Bottom line… These are real skills and knowledge that will help you catch fish.
Pick up a copy of Skagitmaster 1 or 2 in the Hatches store http://hatchesmagazine.com/shop/
DVD review- Skagitmaster 2 with Scott Howell

,
Tags: intruder, Scott Howell
Related Articles
» CDC Snack Sea Trout Fly - By Holger Lachmann
» Hatches Theater - Eric Jackson's "Alignment" - Full Movie
» Swing Season - Steelhead Conservation
» Micro Intruder Baitfish Fly
» Fly Fishing Knots
» How to Tie an Easy Zonker Fly Pattern
» How to Tie an Intruder Fly
» Maraceiver - by Brian Wise
» Korkers Hatchback and Darkhorse Wading Boot Review