featured
,
Fly Patterns
,
Step-by-Step Tutorials
— By
Kevin Hospodar
on December 20, 2011 10:48 pm
BWO's often hatch in big numbers and sometimes the parachute patterns don't cut it. This pattern is easy to tie and always has a place in our boxes. This BWO emerger pattern can be tailored to match the mayfly naturals in any river. While fishing a small tailwater in Montana I came across a small run where BWO's were hatching like clockwork. The fish were lined up in a particular foam line. Seeing these fish patiently waiting to eat emergers reminded me of when I spent some time in Ukraine. Almost daily we would have to wait in line to get the bread we wanted. 3pm was the magic time for us and feeding time for the Ukrainians in the small intimate area of Kiev. Enter the Bread Line BWO Emerger. Fish on a river near you are lining up to eat it!
This BWO pattern has a snowshoe hare wing for added floatation to imitate the adult as it emerges from the shuck at the surface. The shuck is represented by the amber z-lon tail.
During blue winged olive hatches fish can become selective. I have found this BWO fly pattern to worked great for selective feeders and "pressured fish" anytime BWO's are active. Historically they can be found in early to late Spring and again in the fall when smaller species of BWO mayflies hatch. As with most BWO patterns, this fly is best dead drifted alone or fished with a dropper.
Hook: TMC 100 sp bl #16-22
Thread: Danvilles 6/0 unwaxed olive
Shuck: Amber Z-lon
Body: gray olive turkey biot
Legs: 2 turns of medium dun rooster
Wing: Snowshoe hare's foot dyed medium dun
Head: brown olive superfine
Wrap back to the hook point and clip off tag end

Tie in shuck material

Trim shuck the length of the body towards the eye so you have a smooth underbody

Tie in the turkey biot to wrap forward for body. Segmented body is what you are looking for here. Advance thread forward to the end of the body and begin wrapping biot.

Trim off biot and clean up any loose ends in prep for the hackle

Tie in hackle, wrap it twice and tie off
Trim hackle tips on the top of the hook shank in prep for the wing

Trim and size wing to shape

Tie in wing and trim tips that are extending out over the eye

Clean up any exposed hare's hair tips behind the eye

Apply dubbing starting from the hook eye and wrapping back in order to make the fly a little cleaner

Whip finish directly in front of the wing

here is a video tutorial as well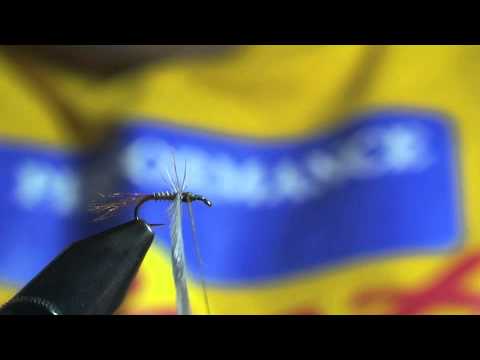 Tags: beginer, Bwo, Emerger, outsmart fishing
Related Articles
» CDC Snack Sea Trout Fly - By Holger Lachmann
» Hatches Theater - Eric Jackson's "Alignment" - Full Movie
» Swing Season - Steelhead Conservation
» Micro Intruder Baitfish Fly
» Fly Fishing Knots
» How to Tie an Easy Zonker Fly Pattern
» How to Tie an Intruder Fly
» Maraceiver - by Brian Wise
» Korkers Hatchback and Darkhorse Wading Boot Review