Step-by-Step Tutorials
,
Videos
— By
HatchesMagazine
on August 17, 2011 10:16 am
Material List
Hook: Scud Hook size 16 thru 22
Thread: 8/0 Grey
Shuck: Amber Z-Lon
Abdomen: Olive Brown Goose Biot
Wing Case #1: Mirage Opal tinsel
Wing case #2 Grey Flouro Fibre
Thorax: Adams Grey Dubbing
Legs: Grey Flouro Fibre
Step 1: Attach thread and attach amber Z-lon, bind down to bend of hook
Step 2: Attach Olive/brown goose biot. I tie this in notch up so it creates a smooth looking abdomen
Step 3: wind biot forward to the two thirds point of hook shank
Step 4: Attach first wing case material Mirage opal tinsel, bind back to the 60% point of the hook
Step 5: attach 2nd wing case material, Grey Flourofibre. Bind down to the 60% point of the hook
Step 6: Dub thorax
Step 7: Pull Flourofibe forwad and bind down
Step 8: Pull 1/2 of the fibre back on the far side, bind down. Pull the other 1/2 back on the near side and bind down. Trim the length just past the back of the thorax.
Step 9: Pull Mirage Opal tinsel forward and bind down. Clip tinsel and whip finish head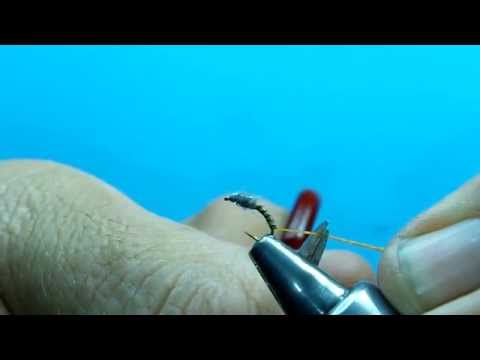 Related Articles
» CDC Snack Sea Trout Fly - By Holger Lachmann
» Hatches Theater - Eric Jackson's "Alignment" - Full Movie
» Micro Intruder Baitfish Fly
» How to Tie an Easy Zonker Fly Pattern
» How to Tie an Intruder Fly
» Maraceiver - by Brian Wise
» Green Lantern Perdigon Nymph - Lucian Vasies
» Emerald Shanker - by Kevin Hospodar
» Micro Intruder fly - Kevin Hospodar