featured
,
Videos
— By
Kevin Hospodar
on June 28, 2012 9:23 am
Recently,
Leland Outfitters
joined Göran Andersson (pronounced Yo-Rawn) of LOOP for a float trip down Oregon's Deschutes River. Göran invented underhand casting, also called Scandinavian casting, in the middle of the last century, and has been perfecting the techniques and associated gear ever since. His ability to fish with little to no back cast space, in addition to his near-superhuman oneness with the fly, have earned him the nickname "Magic Man". Key to his casting style are deep-flexing rods designed for a compact casting stroke. We feel lucky to have spent a little bit of time with him on the river, which, whether located in Sweden or central Oregon, is definitely his natural habitat.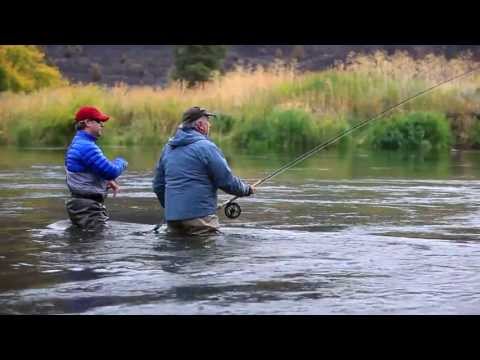 Two days of fly fishing on the Missouri River with Headhunters Fly Shop's John "Scumliner" Arnold and Jared "Gandolf" Edens. Mother's Day Caddis, March Browns, Blue Winged Olives, and Midges were hatching…sporadically. While we had high sun on both days, we were still able to find some rising fish. On the Missouri, a few rising fish is actually a good deal of rising fish. I had my fair share of shots at some nice risers and dropped some ugly casts on them. But, we were still able to catch some nice fish on dries. Short leash nymphing was the primary producer and the "standard" Missouri River 16 to 19″ rainbows showed up in force with a couple 20s and a 21 or two finding their way into Scumliner's skinny black net.
It should be noted that the Missouri River fish fight….hard. A twelve inch football of a rainbow took me to my backing in a couple seconds.
See more at
facebook.com/yukongoesfishing
yukongoesfishing.com
headhuntersflyshop.com


2012 Baja, Mexico Trip with Beulah Fly Rods and FlyFishMex.com Crew. We had a great time this year and had shots at so many different species we forgot that this wasn't an aquarium. Fly Fishing in a place like this can change you for life. Bring your "A" game and don't be shocked if you see something incredible.
If you have any questions about this trip or want to be there next year,
check it out
flyfishmex.com
Tags: Hatches theater
Related Articles
» Deer Head SlugGo - by Chad Johnson
» Hatches Theater- A Deliberate Life
» Bat Banger- by Vern-o
» Hatches Theater- Albies, Brothers, and Loon
» Zebra Midge - Joshua Williams
» Brain Wise - Maximum Cowbell
» Brad Bohen - Hang Time Optical Minnow
» Spent Partridge Caddis
» Applegate Slayer: a Steelhead Pattern