Articles
,
Fly Tying Tips
,
People
— By
Kevin Hospodar
on August 15, 2012 10:26 pm
For me when it comes to fly tying materials, if it catches my eye I have a hard time resisting the urge to impulse buy. I often visualize the material in use, its durability, ease of use, ease of purchasing again, and cost. I can't even begin to tell you how many times I've impulse purchased a material and had it sit in a drawer and never see the shank of a hook. Or try the material once and not like the result. Then there are those times when you purchase the right material and can never again find it in any shop or catalog. Nothing beats the old I'll try this material only to find out that the material makes about a dozen flies and the cost is not realistic to throw the new fly and material in a tree or burry it in the bottom of some famous river. None the less the impulse to try is always there. That visualization of a material on the shelf forms into a useable fly and fish a catcher beyond imagination. A while back I fell victim to some olive dyed blood quill marabou with the top half of the quills dyed black, two-tone marabou if you will. Total impulse, inflated price, and it sat in a drawer for close to a year. The idea spawned, but the fry never developed. I rediscovered the material this spring as I was packing supplies for an upcoming fly tying show. The fly flashed in my brain again and I threw the marabou in the box along with some other materials that could if I wanted to, experiment. When it comes to tying shows, I usually like to have a plan in my head of what to tie and I pack materials accordingly. This particular show was a little more laid back and I wasn't sure where in the tying realm I wanted to drift. My buddies and I were sitting around the cabin the night before the show enjoying libations, one buddy asked, "so what's on the menu for tying tomorrow?" I said, "I have no idea, I'm just going to wing it". He probed a little more, and I said "I'll figure it out in the morning". As the morning came around the plan formed and I went the spey style flies for the demo. I worked out a few soft hackles to get warmed up and jumped into setting bronze mallard wing. This for me is not fun to do alone, let alone in front of a half dozen people. The bronze mallard wing took several attempts to get it set just right, but in the end the result was eye pleasing and worth the effort. Needing to recover from that not-so-great performance, I dove into the same pattern with an alternate upright wing, which turned out fair at best in my opinion. At this point it was time to let the shackles go and just take the tying to new territory. Out came the two toned marabou, I lashed materials to spey hook and counter-ribbed for durability, winged with a pheasant rump dyed black. The fly had presence and I was feeling a sort of satisfaction, all the stumbles along the way were being utilized and absorbed into a new creation. I added jungle cock eyes just below the wing and the fly commanded respect. The dark tones now had glowing eyes that looked furrowed under a heavy brow of the flat wing style. I thought instantly that it looked stealthy and bat like. Impulse material buy, equals satisfaction the newspaper headline would read. I held onto the fly and once I got back home I set it on my tying bench and pondered it while filling orders. A couple weeks later it hit me, drop the spey hook and had a shank. I did this and the results were even more impressive. I added just a touch of marabou for the tail and a stinger hook attached by some scrap red monofilament. The shank body stretched the fly more and looked even sleeker than the prototype. Thus the name bat wings came about.
Now for the test drive. Father's Day weekend I wanted to take my oldest daughter to experience the Salmon River for the first time. Summer is the ideal time to take a younger person to experience a river of this nature. The crowds are down, the flows are too, and if you happen to take a slip the water is pleasant. All of these played true that day. It also gave her a chance to work on getting some distance with her cast, and she is still very new to fly fishing. I really wanted her to experience the pull of a fish on a swung fly. I worked with her extensively to get the casting to improve, which it did. Feeling the pull didn't come so easy. I fished behind her trying to give instruction to improve. I could tell she was feeling the pressure and I tried to back off. I was switching flies often and put my new bat wings on to try it out. As our trip was winding down I had hooked one fish and gave her the rod only to have it come unhooked. I pointed out a likely spot to her and myself moved away a bit to give her some room. I made a couple of drifts near one of the bridge abutments when the grab happened. My daughter seeing that I was hooked up again wanted to reel it in. I said "this is a good fish, here you go". I coached her through it telling her to let it run if it wanted to as the 4 weight switch rod was bent over. She listened well and it took her a while, but the fifteen inch smallmouth bass was soon at her feet. I could see the adrenaline filled smile on her face and I knew we were both sharing the same feeling. We took a couple of quick pictures, even though she was unwilling to touch the fish. Something to work on later. The ride home and the days to follow were filled with laughing and re-living that summer morning and the bat wings that swing.
Test drive number two. I took a solo trip to try out some new-to-me patterns and re-swing the bat wings. By now it's summer time and the driest it's been in years. Low and clear are an understatement, but the targeted smallmouth should be cooperative. My foam bomber wasn't the floating machine I had hoped for, but the fallfish attacked it nonetheless. Need to find a lighter wire hook for that one. The next was a hair wing fly that was modernized by tier Wild Bill, I add my flare to it, and again the fallfish inhaled it. I went back to the bat wings to see if I could muster up something bigger in the catch column. It didn't take long and I was into a small bass, not as big as I was hoping, but the change of species was welcomed. Next came a bigger bass and worthy fish for this river. As I moved to the next spot I had some tricky fast water that plunged into a nice pool with some boulders inter mixed. The initial swings were with large bellies and would swing the fly too fast. I mended as needed and moved down the small pool. Right about mid pool the drift was perfect and the swing was slow, spooky slow. Then the rod jolted and I connected to much better fish. The fight was on and I was starting to gain the lead, when the fish darted down stream and wrapped around a boulder. I was stunned at the quickness that the battle went south on me. I tried to un-wedge the leader, but the current was giving the advantage. I attempted to wade out and free it, but the water was quickly going to be well above my waist. I was not about to take a swim for a leader and I had assumed the fish was long gone. I tried to break the leader off when after several tugs, It came free, leader intact and the fish still thrashing for freedom after having time to rest while the leader was tangled. Adrenaline took over as I was elated to see the fish still hooked. I tried to quickly maneuver the fish into the shallows but as I made my attempt the fish darted back toward the depths and turned a 180 degrees and hid between two rocks. This time he was hidden in knee deep water. I was able to grab the leader and work my way down. I could feel the eye of the fly and with some difficulty I tried to grab the lip of the smallmouth, but he wanted no part of it and swam from his rock crevasse. I quickly put the brakes on him and turned him back around and slid his fourteen inches of determination in to the shallows. I quickly snapped a couple of pictures and released him. Any fish with that much determination deserved to fight again. Never have I experienced so much fight and trickery in a fish. The bat wings keeps making memories for me and is deserving of a spot in my fly wallet. Bring on the steelhead, it's time to dance with the bat wings.

FULL 2 PART TUTORIAL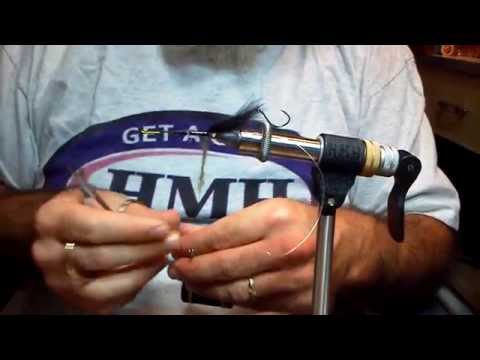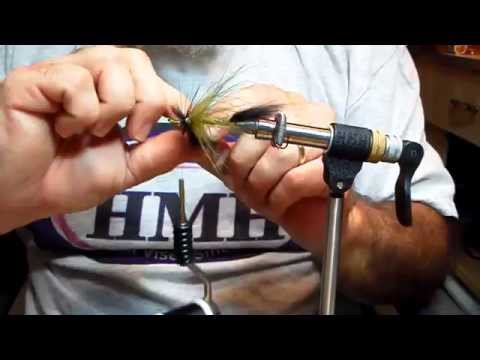 Tags: article, bat wing, VERN-O
Related Articles
» Bat Banger- by Vern-o
» Tube Flies and Beads - Rigging for Steelhead and Salmon
» "Cast One For Hope" on the Bitterroot River
» Book Review by Vern-o "Advanced Fly Fishing for Great Lakes Steelhead"
» MAKERS: Aaron Bamboo Fly Rods
» Enough is Enough- The McCloud River
» Brad McMinn- Summer 2013 artwork
» Brook Trout Tagging with the Maryland DNR
» Swinging Thru Oregon- by Eric Reed