Uncategorized
— By
Kevin Hospodar
on August 15, 2012 10:49 pm
Thread:
6/0 Danvilles Yellow
Hook:
TMC 2488 or any light wire scud hook sz.12-16
Abdomen:
Fl. Orange CDC tuft and yellow dyed turkey biot
Thorax Cover:
1/8″ Larva Lace Foam Yellow
Spent Wing:
Snowshoe Rabbit's Fur Dyed Tan
Dubbing:
Light Yellow Hare's Fur
They Lay Down Sally is a Sally dry fly pattern to be fished during peak activity. We have a fertile river in our neck of the woods that produces great Yellow Sally hatches throughout the summer months. A certain section of this river seems to hold more of these stoneflies and fish than the other sections so naturally where the fish are there; we will be also. The kicker is, this section of river also holds slow, smooth glides wrapping around grassy banks. In short, we needed a pattern that was simple, floated well and successfully outsmarted even the most wary fish in slow-moving water conditions. This fly has been the ticket for a number of brownies that couldn't be taken any other way.

This specific pattern imitates the spent Yellow Sally Fly. June-August is when they are prevalent. Mid-day and just before dark is a great time to fish her. Yellow Sallies are most vulnerable when they are a) on the water laying eggs and b) spent. This stonefly is different from other stoneflies in that it does not crawl out onto dry land to hatch. Instead they will actually emerge midstream – making them very vulnerable. Lay Down Sally is best fished on a dry line as a single or as a dropper behind an egg laying adult pattern. Make sure you have a "slow hand" on the hook set.
For more great content check out http://outsmartingfish.com/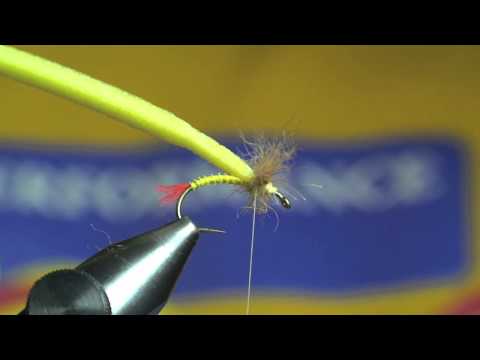 Tags: Intermediate, outsmart fishing, Stonefly, Trout, yellow sally
Related Articles
» Hatches Theater- PTTS, Flood Red, and Skeena steelhead
» Patterns 224-234
» Patterns 214-223
» Patterns 204-213 added to the Ray Bergmen Collection
» Reserve a Hatches T-Shirt
» Patterns 194-203
» Patterns 184-193
» Patterns 174-183
» Patterns 164-173