featured
,
Videos
— By
Kevin Hospodar
on July 27, 2012 10:53 am

Atlantic salmon on double hand fly rod.
Ernestas Keturka & co. (www.museline.lt) chasing baltic salmon in Lithuanian salmon river.
Shot and edited by PauliusM (http://www.salmosalar.lt/)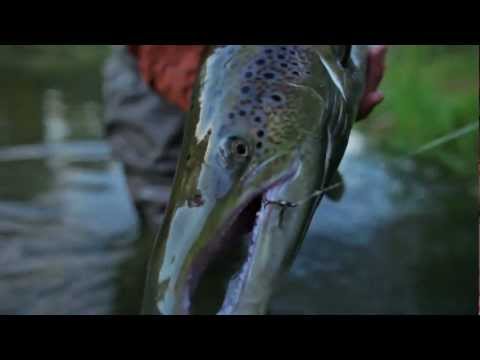 Our plan for early spring was to fish a handful of days and produce our first mini film project. Contrast became a word that described the stark differences of the river and how our vision for this project differed from the end piece. This is the culmination of one of our best late winter/early spring fishing seasons to date. We're still learning and looking forward to making these even better. Enjoy and for the full experience we encourage you click "HD" and throw on a pair of headphones.
For more videos and photos [LIKE] us at facebook.com/Montana.Wild.Productions or swing over to our site montana-wild.com
The entirety of this production was created by: Travis & Zack Boughton
By worldangling.com Fly fishing for Permit isn't something that you wake up one day and say "gee, I think I'll try and catch a permit on fly today." It's something that you're led to. Like the details of a mystery perpetually unfold, so does the allure of permit fishing. The fascination with Permit evolves from the desire to seek out greater challenge. So, in a sense, it's really a personal endeavor. But the fish makes it possible…
As a guide, I consider Permit a great fortune. I am lucky they swim on the flats, I am lucky they are hard to catch, and I am lucky to have anglers that relish the challenge they present with a fly rod. Over the years I have seen permit fishing become more accessible as people have turned on to their appeal and figured out how to catch them with consistency. The equipment is much improved and the flies have evolved, but more then that, our confidence has grown in the realization that they are catchable. Nothing epitomizes this progression more than what I consider the pinnacle…when I step out of the boat, and into the world of the permit, and face him one-on-one!
While the sport of fly fishing may have unlocked a few of the mysteries of the Permit, our understanding of the fish is far behind. It's hard to believe that what we know about this elusive trophy is far greater in the world of fly fishing then in the world of science. Our ambition with this film is to reveal the challenge, passion and beauty that lies at the heart of the sport, and to shed light upon the fact that this important resource is virtually unknown from a scientific perspective. As regulators decide how best to manage this valuable fishery, our commitment is to showcase how incredible and how deserving of protection they truly are. by http://worldangling.com/
Tags: Hatches theater
Related Articles
» CDC Snack Sea Trout Fly - By Holger Lachmann
» Hatches Theater - Eric Jackson's "Alignment" - Full Movie
» Swing Season - Steelhead Conservation
» Micro Intruder Baitfish Fly
» Fly Fishing Knots
» How to Tie an Easy Zonker Fly Pattern
» How to Tie an Intruder Fly
» Maraceiver - by Brian Wise
» Korkers Hatchback and Darkhorse Wading Boot Review