featured
,
Fly Patterns
,
Step-by-Step Tutorials
— By
Kevin Hospodar
on June 12, 2013 9:02 pm

Check out more from Curtis at http://www.flyfishfood.com
In honor of the epic 17-year Cicada emergence this year, I was on an R&D mission for a new fly design. First, I went back over a few older Cicada fly patterns I'd tied in the past. Then I looked at resources online as well as some field research looking at actual bugs. The one below was found and photographed recently here in Utah while I was hunting bugs waiting for Cheech to bring his fat butt upstream. This Cicada is a little more bland than some of the other bugs I've seen but it still fits the mold of what I was planning for the fly pattern.
In the end, I fine-tuned a couple of different fly patterns I'd tied in the past (for both crickets and Cicadas) and ended up with this Cicada fly pattern concoction. Looking at the photo below (thanks magicicada.org), you'll see the more tapered underside profile with a definite striped segmentation. Coloration varies from mostly black to black/orange/yellow to the more traditionally known black and orange. The pattern shown above was tied to imitate the more yellowish insects, but colors can be varied according to the colors you see around your local streams and lakes.
I also wanted the fly to float well enough to support bigger sized droppers, so you'll see this Cicada pattern incorporates as much foam as possible.— Curtis Fry
Hook: Mustad C49S #6
Thread: UTC Ultrathread 70 Denier Fire Orange
Eyes: 50 lb Mono, Melted
Body: 5 & 2mm Craft Foam, Black & Orange or Yellow
Wings: River Road Creations® River Foam®
Legs: Barred Rubber legs
Cutters: River Road Creations® Beavertail Body and Stonefly Wing
Check out more from Curtis at http://www.flyfishfood.com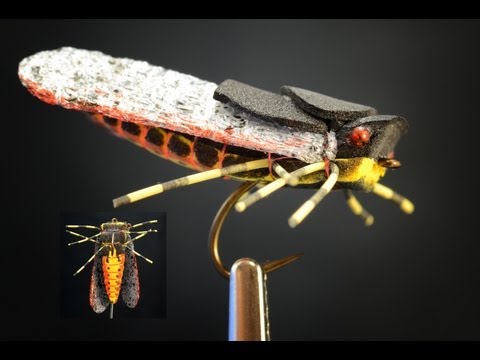 Tags: cicada, Curtis Fry, Intermediate
Related Articles
» CDC Snack Sea Trout Fly - By Holger Lachmann
» Hatches Theater - Eric Jackson's "Alignment" - Full Movie
» Swing Season - Steelhead Conservation
» Micro Intruder Baitfish Fly
» Fly Fishing Knots
» How to Tie an Easy Zonker Fly Pattern
» How to Tie an Intruder Fly
» Maraceiver - by Brian Wise
» Korkers Hatchback and Darkhorse Wading Boot Review