featured
,
Fly Patterns
,
Videos
— By
Kevin Hospodar
on July 10, 2013 10:10 pm
Brian Wise takes one a great streamer pattern, Nick Granato's Sasquatch. Nick is know from some awesome large streamers and did a full Sasquatch tutorial in the 2011 issue of Hatches (see more of Nick's flies
HERE
) and Brian is cranking out some of the best fly tying videos today (see more
HERE
)… so they are a perfect match.
Recipe:
Hook – Gamakatsu B10s #1
Eyes – Real Eyes (or Clear Cure Weighted Eyes)
Tail – Bucktail
Tail – Marabou
Tail – Flashabou
Tail – Flash Blend
Tail – Marabou
Tail – Crystal Flash
Tail – Peacock Herl
Tail – Rubber Legs (Spinnerbait Skirt!)
Hackle – Barred Saddle (or Barred Schlappen)
Head – Craft Fur Dubbing Brush colored with markers.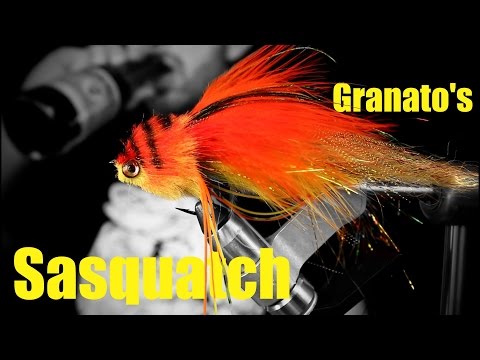 Tags: brian wise, Intermediate, Nick Granato, Streamer
Related Articles
» CDC Snack Sea Trout Fly - By Holger Lachmann
» Hatches Theater - Eric Jackson's "Alignment" - Full Movie
» Swing Season - Steelhead Conservation
» Micro Intruder Baitfish Fly
» Fly Fishing Knots
» How to Tie an Easy Zonker Fly Pattern
» How to Tie an Intruder Fly
» Maraceiver - by Brian Wise
» Korkers Hatchback and Darkhorse Wading Boot Review